On the coastline of the North Island of New Zealand, the shores were illuminated by a radiant "aurora borealis": plankton flowers that glow blue-green after a night.
The elusive, beautiful phenomenon, which sometimes sweeps to the coast, has been witnessed by local "biohunter" enthusiasts who browse coastlines in search of bioluminescence.
"It's also called the aurora borealis, just like the Aurora Australis you see in the sky," said Sajit Muralidharan, a photographer who recorded the phenomenon in NEP.
The light is activated as it moves: the crest of the waves begin to glow, the spray sparkles, the traces flicker blue on the wet sand, and the floating fish can leave sparkling traces. "Every time a wave comes, you can see this beautiful phenomenon. It's amazing – there were a lot of people, a lot of people with families, some of them were swimming, "Muralidharan said. "It's a really great thing to be a witness."
This phenomenon is caused by the flowering of plankton and phytoplankton species, some of which use adaptation to "luminescence" to dodge predators or distract them.
"Dinoflagellates produce this light when they are broken, and give off a light flash for a split second, which prevents a predator trying to consume them," said Carl Sophie, an algae ecologist at the National Institute of Water and Atmospheric Research.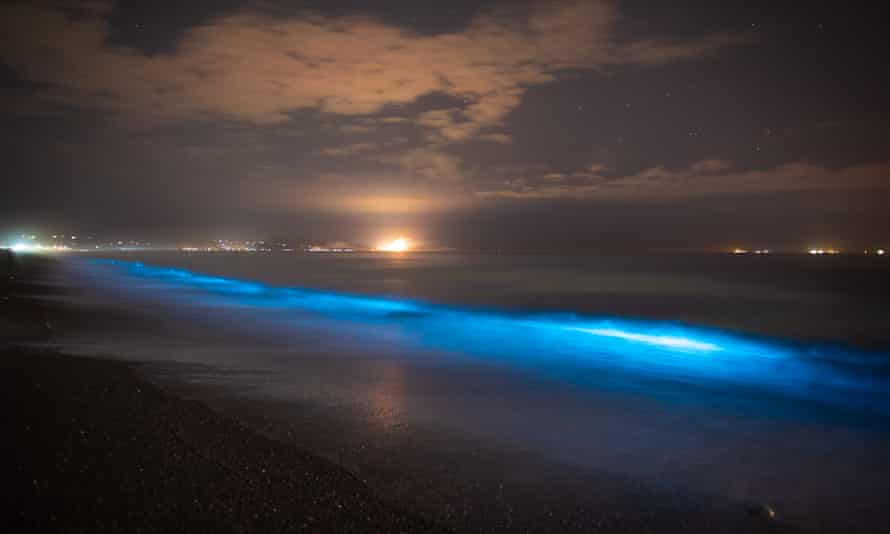 The glowing waves are unpredictable, but Sophie said they are "frequent on warm nights and can also occur after days of heavy rain." The phenomenon only occurs at night, Sophie said, because the creatures have built-in biological clocks and do not glow during the day – even if placed in a dark space or container.
Microbiologist Susie Wiles uses bioluminescence to track the growth of infectious diseases in the laboratory, but says she is also an enthusiast, and went hunting to see creatures that catch fire in the wild.
Amateur bio-hunting groups have sprung up around New Zealand's coastline, where observers warn each other when they see a phenomenon, and sometimes travel along the coast to try to witness. "People write when they've seen something, and this year has been pretty quiet, so it was really nice to see that," Wiles said of observing Napier. She "hunted" twice to see the waves light up.
"The more people see it, the better I think," Wiles says. "It's just a wonderful – really magical – amazing phenomenon."